New Boutique Grand Opening
& Fall Trends Event
Thursday, September 21, 9 a.m. – 5 p.m.
Friday, September 22, 9 a.m. – 5 p.m. and
Saturday, September 23 • 9 a.m. – 12 noon
Get ready to step into a world of style and sophistication like never before! The wait is over, Rome Inspirations proudly announces the GRAND OPENING of its NEW Boutique and Fall Trends Event!
Discover the latest trends in fashion, from cozy apparel to stunning accessories as well as the latest in home decor, all under one roof. Whether you're a fashionista or simply looking for a wardrobe refresh, we've got something special just for you.
But that's not all! When you spend just $25 or more, you'll receive a FREE GIFT as our way of saying thank you for being part of this exciting event!
And there's even more excitement in store! With every qualifying purchase, you'll be automatically entered into our numerous DOOR PRIZE DRAWINGS. You could be the lucky winner of some incredible prizes!
The Grand Opening of Rome Inspirations New Boutique and Fall Trends Event is the place to be this season. Join us and experience the epitome of style, luxury, and savings. Mark your calendars and join us: Thursday, September 21 and Friday, September 22 from 9 – 5pm, and Saturday, September 23 from 9am – Noon at Rome Inspirations, located at 300 West Park Street, in Rochester. We cannot wait to see you at the grand opening!
---

The Incredible Savings Event
Monday, September 18—Friday, September 22, 9 a.m. – 5 p.m.
Saturday, September 23 • 9 a.m. – 12 noon
Shop in store and save big on select Fall, Christmas, Baby, Ladies & Inspirational Items!
---
Past Events
---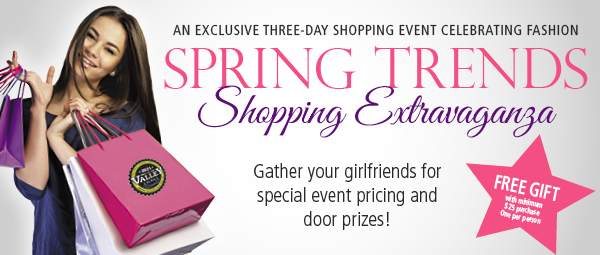 Three-Day Spring Trends Shopping Extravaganza
Join us for our Spring Trends Shopping Extravaganza where we will debut the perfect colors, styles and shapes for spring 2022 trends in apparel, jewelry and accessories! Of course, we are doing this event "Inspirations" style so you know there will be prizes, free gift with $25 purchase, and so much more!
Thursday, April 28
•

10 a.m. — 5p.m.,
Friday, April 29
•

10 a.m. — 5 p.m., and
Saturday, April 30
•

9 a.m. — 1 p.m.

Annual Christmas Open House
Thursday, November 18 ❄ 10 a.m. — 5 p.m.,
Friday, November 19 ❄ 10 a.m. — 6 p.m. and
Saturday, November 20 ❄ 9 a.m. — 1 p.m.
Join us for our Rome Inspirations' Christmas Open House for special holiday event pricing!
❄ Nativity Sets & Advent Items
❄ Ornaments
❄ Christmas Cards & Books
❄ Stocking Stuffers
❄ Holiday Home Decor & Florals
❄ Christian Jewelry & Art
❄ Ladies Fashions, Accessories & Jewelry
❄ And, of course… Door Prizes!